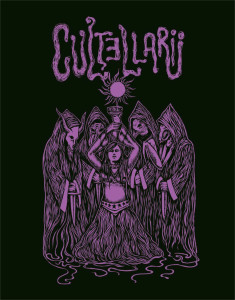 Cultellarii was formed in the summer of 2007 by guitarists Chad Bailey, and Chris Wicklein. The band's name is taken from Gene Wolfe's Science Fantasy masterpiece "The Book of the New Sun". Cultellarii's music is written and arranged by Bailey and Wicklein, who have long experience in the underground music scene, hailing from bands such as Killing Addiction, Autumns Wake, Hero of our Time, and Nosvampyram. Cultellarii take lyrical inspiration from many, many sources – most of them literary. The lyrics themselves are written to provoke the imagination, curiosity, and manifest the inner darkness resident in the listener.
Though the band formed in mid-2007, it was not until August of 2009 that the current line-up was established. After several frustrating false starts and set-backs, it was finally clear that all the pieces of the puzzle were in the right place, and for the first time, things started to click. Completing the line-up are Gary Miller from 13th Universe, on drums and percussion, Steve Struthers – formerly of Vincent Valentine, on bass guitar, and Alanna Gunter on vocals.
Some of Cultellarii's musical influences include Voivod, Black Sabbath, Celtic Frost, Electric Wizard, Mercyful Fate, Sahg, Agalloch, Danzig, Sunn O))), and Cathedral. The primary musical focus was to create dark, down-tuned heavy rock songs, with interesting lyrical and unconventional progressions.
Cultellarii have been playing gigs in the central/north Florida region with bands such as Vocal Drop, Azmyth, Getten Deep, Twenty-Weight, Marion Crane, Taproot, Sin God, Absolution, Ebullition, and more, but are seeking to expand their realm of persuasion to new audiences and new places.
Followers and fans of Cultellarii are referred to as the "Cult of a Brighter Sun", a name also stemming from Gene Wolfe's "Book of the New Sun". Cultellarii have taken to wearing stage costumes during the live set, and accent the show with fog machines and haunting intro-music. The effort is to further the concept of the group as not simply a band, but cultists.