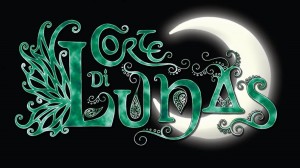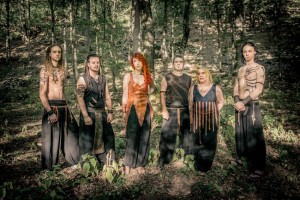 Summon: How did the band get started? 
Thomas: The band started many years ago, with a different line-up, playing acoustic instrumental medieval standards. Then in 2013, the year I joined the band, we approached a more rock influenced music, with electric guitars and with a new female voice.
Summon: What kind of music do you play? 
Thomas: It's a bit difficult to answer: we play Celtic rock, but you can also hear some metal music or electronic sounds… You have to listen to our album and get your own idea! 
Summon: How has the band response been? 
Thomas: Don't understand much the question… But I think the response is good.
Summon: Where did the band name come from?
Thomas: The name La Corte di Lunas comes from the first album of Brauls, a friulian band playing popular music. Brauls are now released but we still love their music and so we decided to celebrate it.
Summon: Introduce the band members
Thomas: There are six of us: Riccardo at drums and percussion's, Giordana at the vocals and percussion's, Coghy at the bagpipe and bouzouky, Rango at the bass, Manuela at flute, keys and backing vocals and Thomas at guitar and didgeridoo.
Summon: Who writes the music? Lyrics?
Thomas: We try to write music together: often a member of the band can have some ideas for another instrument. The lyrics are written by the singer, but they are also inspired from some Shakespeare's or Tolkien's poems.

 
Summon: And where do the lyric ideas come from?
Thomas: We usually get inspired by Celtic tales or myths and then we rearrange them with our experience: you know often those stories have a further sense, which everyone can read in a personal way.
Summon: How many albums/CD's have you released?
Thomas: The band released 3 albums: "Plaudite si più forte", the first one, acoustic and instrumental, with bagpipes and percussion's; "Ritual", more rock, introduces Giordana's voice; The last one "Lady of the Lake" is another evolution, with a more aggressive drum and heavy metal guitars, it has more ancient instruments, like didgeridoo and bouzouki, and it is collecting a lot of positive reviews.
Now, our live-concerts are a mix of these three albums, that can be appreciated by the fans of rock, metal, Celtic, medieval and Irish music.
Summon: Do you have any side projects?
Thomas: Until last year I had several side projects involving folk metal, party rock and punk, but now my only project is "Corte di Lunas".
Summon: Who are some of your musical influences?
Thomas: I grew up playing rock and metal, and now I'm discovering blues, jazz and funk music, so I try to mix them up in my compositions. The fascination for folk music is the element that unites everyone in the band.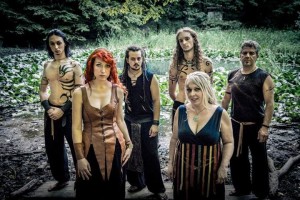 Summon: Which current bands? 
Thomas: We are inspired by artists such as Blackmore's Night and Faun.

Summon: What is the band like when you play live? 
Thomas: We are very careful about clothing and stage presence, in order to involve much more the audience. Then we use many instruments, as bouzouky, didgeridoo, djambe, borhan, kalimba, darabouka, bagpipes, flutes… because I think our fans like to hear many sounds. Moreover in summer we do tribal inspired body painting.
Summon: What was the best band you played with?
Thomas: Corvus Corax for sure. Their show was astonishing. But we must mention also our Italian friends Mortimer Mc Grave, who are very entertaining on the stage, very prepared musicians and lovely people.
Summon: Have you guys ever played in another country?
Thomas: In my personal experience with Corte di Lunas, I played just around Italy, but I know the band played also in Portugal and Denmark. We now have contacts in Germany and Romania.
Summon: How big of crowd shows up at shows usually?
Thomas: Obviously it depends on the concert: we played in front of ten thousand people in Montelago Celtic festival (MC), and also for a few close friends in pubs. We like very much playing live music and no matter how big the crowd is, because each time is different and you learn something new.
Summon: How is the crowd response when you play?
Thomas: Usually we are pleased with the crowd response. We play some fast songs and the people feel the need to dance!
Summon: What is the scene like over in your country?
Thomas: Here bands most followed are the cover or the tribute bands. For those who play their own music it's difficult to get noticed. Many booking agency work only with tribute bands, and many festivals host only this kind of bands. Fortunately there are some realities (like Montelago or Triskell) where you are appreciated and you can find the warm support of the people who love good music.
Summon: What made you want to be in this band? And if you weren't in this band what would you being doing now?
Thomas: I like to play in this band because we are like a family and we all want to contribute to our music, making it successful. It's really a thrill to be able to play the songs that I write, seeing the enthusiasm of the band and the fans. If I weren't in this band, maybe I would be doing the same things with another band: I just can't stop thinking about music!
Summon: What does the future hold for the band??
Thomas: We going to play in many important festivals in Italy this summer, but we hope to get noticed abroad: infact we are arranging dates in Europe! Finger crossed!
Contact them at:
https://www.facebook.com/CorteDiLunas.OfficialPage
https://www.youtube.com/user/lunasfansclub/videos