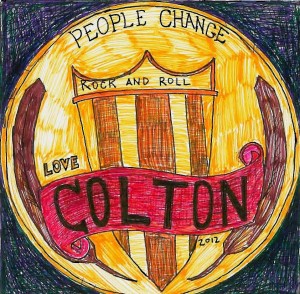 Summon: How did the band get started?
Colton: The band Colton is written by Vocalist Colton Woodard. Musicians featured on the recordings include drummer Will Weatherly, guitarists Andrew Karpovck and Kevin Morse, bassist Dalton Woodard. "When we went into the studio I just had all of these catchy ideas that I couldn't get out of my head. I had stuff I really wanted to say and Producer Andrew Karpovck could really translate the direction I wanted. We also had the opportunity to record four tracks with Motown Producer Tom Dale which was a really great learning experience. My friends happen to be really great guys and talented musicians, they help me bring this dream to life in our first album "people change". I can't wait to record all of these other thoughts." – Colton Woodard.
Summon: What kind of music do you play?
Colton: Our music is rock music for sure. Some softer and emotional others with that harder hitting punch.
Summon: How has the band response been?
Colton: It's crazy. So many people have been flooding us with compliments. I hope this never ends. It makes me want to entertain so many more people, using my talents to make others connect on those same emotions that I feel. I feel a friendship and empathy with our listeners. Its positive and it's awesome.
Summon: Where did the band name come from?
Colton: I really wanted to simplify the whole band thing into the basic: what you see is what you get. When you see my name you know exactly what you'll be listening to.
Summon: Introduce the band members
Colton: Colton Woodard, 21 , is a musician, songwriter, vocalist, and performer. He enjoys playing music, swimming, hanging out, and training in karate. Dalton Woodard, 22, is the bands bassist, known for his soulful groves and finesse on stage. He is a writer, artist, and an actor, as well as an avid musician. Special thanks goes out to our friends who have been helping out by filling in at shows. Andy, will, Sean, chester, Kevin, and everyone else, brennan, Reynolds, Jason, Gage, tanner, David, Taylor.
Summon: Who writes the music? Lyrics?
Colton: Songwriter Colton Woodard writes the songs and lyrics. "I like to write from the heart and talk about things that are important to me. It feels awesome when you're singing with your heart out, completely emotionally naked in front of everyone, and see people interested in what you have to say, and them possibly relating. I like to tell a story or convey an idea in a way that other people can use to cope with situations or just have some fun singing back.
Summon: And where do the lyric ideas come from?
Colton: The lyrics come from experiences in my life. You get a really personal look into my life through my music. It's funny feeling like so many people already know me and are out there waiting to introduce themselves. Lyrics are just saying what you want, in rhyme.
Summon : How many albums/cds have you released?
Colton: We just finished up and released our first album titled People Change. It's great. Can't wait to record the second album and we are writing out the third currently.
Summon: Tell me about some the songs on the latest CD?
Colton: The first track called Chance for Me,  is about me quitting all of my jobs to pursue my dream in music. It picks fun at todays media and the broke lifestyle most musician live. Jealous is written about people who try to tear you down, asking listeners to think about why exactly does one feel the need to hurt someone else when they succeed. There are quite a few fun love songs on the album, of course, but I really like Head Games. Head Games I wrote from a different perspective and it's that ultimate "I'm fed up with your bullsh*t" song. It's so much fun and I think listeners will really enjoy singing it.
Summon: Do you have any side projects?
Colton: Not too much time for a side project these days but I always find the time to jam with friends. You're never too famous to pick up an instrument, drink a beer, and hang out.
Summon: Who are some of your musical influences?
Colton: Really inspired by Motown classics like the chi lites, to linkin park (hybrid theory), to relient k, all American rejects, fall out boy, and classic rock bands like reo speedwagon.
Summon: Which current bands?
Colton: Current bands I like are maroon 5, I'm weird and listen to all that dorky girl stuff like Jonas brothers, I like Gavin degraw, and Justin timberlake.
Summon: What is the band like when you play live?
Colton: We put 100% of our hearts into the show, so were usually soaked in sweat by time the sets done. We really get into our own music because it's something we feel.
Summon: What was the best band you played with?
Colton: My last band was on the '11 warped tour so we've played with some really great bands. I'm hoping this band will really take it to a new level.
Summon: Have you guys ever played in another country?
Colton: It's one of my dreams and biggest goals to play over seas. I can't wait until that day. Let's make this happen.
Summon: How big of crowd shows up at shows usually?
Colton: It really depends where were playing and how much it's promoted. Whether I play to 3 or 3000 people it's always the same for me. Go out, perform with everything I've got, and hopefully make some new real friends and supporters at the end. If they bought merch, even better!
Summon: How is the crowd response when you play?
Colton: Haven't had any negative response up to this point. Were on a pretty positive cloud and shows have been really fun. People have been singing along which makes me feel pretty awesome. I feel like it's my responsibility to entertain everyone and I try to do it well.
Summon: What is the scene like over in your country?
Colton: Well it's diverse. Last night we had 12 year olds with their moms, eighteen year old girls washing off the x's on their hands, and forty somethings who still love rock music and having a pint with their friends. It's awesome. 
Summon: What made you want to be in this band?  And if you weren't in this band what would you being doing now?
Colton: Music is my life, it's all I want. It's my calling and my passion. If I weren't doing music I would move to Brooklyn and hustle off paintings, probably join an underground fighting circuit, build fixed gear bicycles, who knows really.
Summon: What does the future hold for the band??
Colton: The future holds lots of more music for the band. This album is only the beginning. I'm interested in seeing what happens next!

Contact them at:
http://www.facebook.com/ColtonJamesWoodard