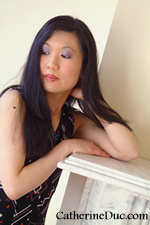 Summon: How did you get started? 
Catherine: I started learning keyboard when I was 8, although I had my first toy 'grand piano' when I was about 2 or 3. In high school, I started learning classical piano and completed 5th grade exams. In my final year of school, I really got into electronica/world beat music such as Enigma and Deep Forest and took synthesizer classes which I found much more interesting than piano lessons. That was also the year that I received my first music award in the school's original song competition.
Summon: What kind of music do you play?
Catherine: I mainly do a fusion of ambient, world and electronica music, especially in the Celtic style. I also do a lot of other different styles such as contemporary classical, chill-out/down-tempo and have even written songs in the melodic trance and guitar pop-rock styles.
Summon: How has the fan been? 
Catherine: Really supportive – some listeners have been with me from the early days from 10 years ago. I did an analysis on my listener base using an online site and most of them are from USA with the majority in California.
Summon: Who writes the music? Lyrics?
Catherine: For my solo albums and projects, I write all the music. Most of my work is instrumental, but if I'm doing a vocal song, I'll write the lyrics. In the past I've collaborated with some other artists and they'll usually have written music and just need lyrics or vice versa.
Summon: And where do the lyric ideas come from?
Catherine: They can come from life (either mine or people I know) or from movies or just my imagination.
Summon: How many albums/CD's have you released?
Catherine: I've released 2 studio albums 'Forest to Sea' and 'Visions and Dreams' and am currently working on my 3rd album. My songs have also been released on several compilation CDs – either as themed compilations (electronica, chill-out etc) or for charities.
Summon: Tell me about some the songs on the latest CD?
Catherine: I won't give too much away, but the new album has more of a Celtic influence. There are also more vocal songs as well as a remix of one of my songs from 'Visions and Dreams'.
Summon: Do you have any side projects?
Catherine: I work on special projects occasionally and have also done some collaborations in different styles such as my latest single 'Single Glance' with UK producer Stuart Epps who has worked with Mick Fleetwood of Fleetwood Mac.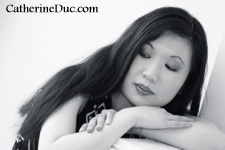 Summon: Who are some of your musical influences?
Catherine: My main early influences were Enigma and Deep Forest – I was fascinated with the fresh sounds they created by mixing chants and world music with electronica textures when I first discovered their music. I'm also influenced by Celtic artists like Bill Whelan (Riverdance), The Corrs, Clannad and traditional music. On the contemporary classical style, my influences are film music composers, James Horner and Harry Gregson-Williams.

Summon: Which current bands?
Catherine: I actually don't listen much to the Top 40 now, but I think one of the most talented artists right now is Adele and people will still be listening to her in 50 years.

Summon: Do you play live shows? What are the live shows like?
Catherine: Not many as I'm more of a studio artist and it's difficult to reproduce my studio sound live without a lot of musicians and electronics. I've just done a few gigs where I'm either performing keyboard or organ.
Summon: Who was the best band/artist you played with?
Catherine: Sarah Bussetil is an amazing violin player – she's classically trained and also plays world music, especially Eastern European gypsy music. Russ Aimz (who played guitar at my live show and is also a very talented singer/songwriter) introduced me to her when I was looking for a violinist for live performances. I only met her on the actual day of the concert and we had only rehearsed for less than an hour over the phone before! She played flawlessly at the concert though and this shows how talented and professional she is.
Summon: Have you ever played in another country?
Catherine: No, but I'm open to offers as I love travelling.
Summon: How big of crowd shows up at shows usually?
Catherine: The audience size is small to medium.
Summon: How is the crowd response when you play?
Catherine: It's laid back and cosy.
Summon: What is the scene like over in your area?
Catherine: According to the Australian tourism site, Melbourne is the music capital of Australia (although other capital cities may disagree with this) 🙂 The live alternative/rock and electronic/dance scenes are very strong and we also get a lot of music influences from the USA and Europe. We also get big name artists every week as Melbourne is almost always on a stop if an overseas artist tours Australia. We also have a great jazz and classical scene.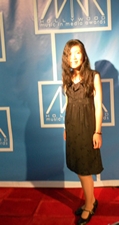 Summon: What made you want to be a musician?  And if you weren't what would you being doing now?
Catherine: I wanted to be a musician because I love listening to music, experimenting with sounds and creating it. Even if no-one heard my music, I'd still write music because I find it very relaxing and therapeutic. I can't imagine not doing music, but I actually do have a day job in finance. In an alternate world, I could also imagine myself as a travel and food writer working for a magazine such as 'Gourmet Traveller' 🙂
Summon: What does the future hold for you??
Catherine: I'm currently working on the second last song for my next studio album. I'd also love to go to Europe to attend a song writing workshop in Stockholm this year, but it's dependent on the outcome of a song competition.
Contact:
http://www.myspace.com/catherineduc