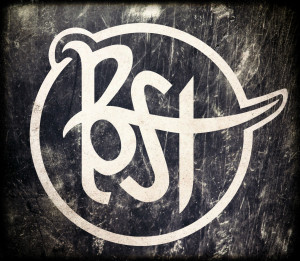 Heard the news? Rock & roll isn't dead after all.
Sure, you're not going to hear it on the radio much these days, or see it near the top of the charts, but it's still out there if you look for it. There are still folks that believe in the power of a guitarist driving a killer riff, and a drummer laying down a heavy backbeat. There are bands out there that believe music should be loud, strong, fun, and a little bit dangerous. And you can still find acts that will give you sounds to make you stomp you feet, bob your head, and make you believe you can actually live inside a blacklight Frank Frazetta painting.
If that sounds good to you, then the band you should be looking for is Blue Snaggletooth.
Based in Ann Arbor, Michigan and named for an obscure character in the "Star Wars" universe, Blue Snaggletooth call their music "Psychedelic D&D Rock & Roll," and they lay out real-deal hard rock with a tough, muscular groove and furious guitar work that should connect with stoners, metalheads, and rockers alike, fused with lyrics that meld sci-fi and fantasy visions with a deeply resinous point of view.
Fronted by guitarist and singer Chris "Box" Taylor (who previously played with Mazinga, Powertrane, and Michigan legend Scott Morgan), Blue Snaggletooth was formed in 2009, when Taylor teamed up with bassist Ian Harris, guitarist Jess Willyard, and drummer Ian "Pit Viper" Sugierski. The band began making a name for themselves playing Michigan rock clubs, and their debut album, 2011's "Dimension Thule," sold out it's initial pressing.
But while the first edition of Blue Snaggletooth was solid, it wasn't meant to last, as personal commitments led to Harris, Willyard, and Sugierski leaving the group. But you can't keep a good beast down, and Taylor has resurrected Snaggletooth with a new lineup that's even heavier and more impressive than the first.
Guitarist Casey O'Ryan and bassist Joe Kupiec are rock & roll prodigies steeped in hard rock and classic boogie – as Taylor says, "They're not brothers, but they should be," and they give the band groove, energy, force, and powerful commitment. (In the grand tradition of everyone in Black Flag getting a tattoo of The Bars, O'Ryan has already gotten himself inked with Blue Snaggletooth's artwork.) With Mike Popovich driving the groove behind the drums and Taylor wailing and laying down rhythm licks up front, this new edition is a hard rock dream machine, ready to take your mind and your ears deep into the cosmos. And the band's shows look as cool as they sound, with Jaime Magiera screening deeply trippy video projections to accompany the wall of sound.
The second generation of Blue Snaggletooth isn't wasting any time. The band is working up material for their next album, and Taylor and O'Ryan have already banked fourteen new songs that they hope to take to the studio by the end of 2013. If anyone is proving that you can honor hard rock's past while pumping fresh blood into its future, it's Blue Snaggletooth. Hop on board their spacecraft while there's still room for new riders.