Bäkken
Death of a Hero
8 Track Debut Album
Release Date: 2012
By: Pagan Hel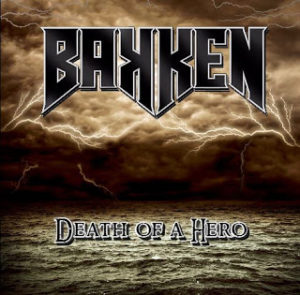 Bäkken – Northern Ireland
Links:
https://www.facebook.com/bakkenband
Worldwide Genocide – March 2014
Death of a Hero – 2012
Genre: Classic Metal, Thrash, Power Metal, Hard Rock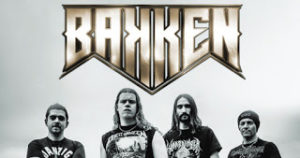 Biography:
"Formed in 2011, Bäkken are a classic heavy metal band from Northern Ireland. The quartet describe their sound as "combining the visceral edge, gruff vocals and choppy riffing of early thrash metal with melodic sensibilities and complex song structures of German power metal and NWOBHM".
~~~~~~~~~~
Considering Bäkken formed in 2011 and released their debut album in 2012 I am wondering what has happened since the release of Death of a Hero? Well it seems as if the silence has apparently been due to line-up changes with bassists and guitarists. Bäkken released a 5 track E.P back in 2014 entitled Worldwide Genocide and have since completed a successful mini tour of Holland during February last year, but since then all seems quiet on the Bäkken front.
Darkest Day – Opens with a siren's wail and a regimented drum beat which paves the way for what is about to follow. Sounding ominous and filled with angst the sound of gunfire through a saddening riff is quite poignant, until a rousing fast pace cuts through the ambiance and devours it with unrelenting energy.
Mystic Mogul – is a powerful and energetic journey that bounces with fierce velocity and good harmony! Strolling with a confidence and compelling charm that has an addictive quality all its own when the bass kicks in!
The Cursed – has a wiry angular sound that starts and then explodes into a familiar chug with full on harmonies and no doubt would have an audience with fists in the air as its underlying intensity blossoms into a good head banging session!
Sasquatch – is so far my favourite track as the blinding chugs are unmerciful and devious! The tempting melodic hues come in between and really give the track some clout!
Back to the Future – Brilliantly powerful with huge slabs of rhythm and dynamism from the Irish quartet! Emotionally enjoyable, distinct and right from the heart! While the vocals are clean and engaging! The rampaging creativeness of Bäkken draws on addictive and emotionally charged riffs!
Get back to your Feet – throws you into turmoil as it begins with a beautiful little melodic riff and then explodes into full on menace!
Fortress of Evil – Engages with a meaty bass hook and melodic tones of swagger with a strong chug in tow that scintillates with each stride. Raw and predacious it certainly doesn't let the grass grow under its feet.
Voyage of Aodh – is fuel charged and full in your face. The riffs are fast and furious as the warm familiar rhythms melt your ears, and then there is a sudden drop that slows significantly showing its calmer side.
Summary
Well with 4 years gone and just a 5 track released in 2014 there certainly is a lack of classic metal thrash from Bäkken which is a shame as they certainly have a good strong sound, intense vocals, steely heartfelt riffs to encounter and appear to be all-embracing, even potent at times!
Bäkken seem to be plagued with bad luck as yet another member has left the band so this has caused a serious lull in the bands career, however, I hope it won't be long before a new bassist is recruited putting Bäkken on the map again!
8.5/10
Track List:
Back to the Future
Darkest Day
Fortress of Evil
Get back to your Feet
Mystic Mogul
Sasquatch
The Cursed
Voyage of Aodh
Members:
Mark-Anthony McGinnis – Guitars
Brian O'Kane – Bass
Simon Pickett – Guitars & Vocals
Niall McGrotty – Drums & Backing Vocals