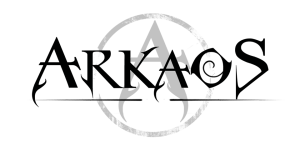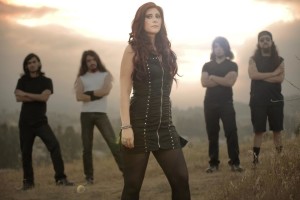 Summon: How did the band get started?
Paula: Arkaos was created in Santiago, Chile, by Carlos Osorio and Alexis del Río. The band started as a project in 2011, but it wasn't a "real" band until March, 2012 when the line-up was complete.
Summon: What kind of music do you play?
Paula: We have tried to classify our music, since people is always asking about our style, but we are so eclectic, we don't really know. It's just metal. Sometimes doom, sometimes prog, sometimes trash, sometimes it's very atmospheric. We don't want to abide by a single style, we don't want to limit our creation because it seems that we don't play just one style of metal: we mix them. Similar styles of course!
Summon: How has the band response been?
Paula: It has been better than I expected. The response was really fast, we released a single and put it for free download on our website and people started to know our music and liked it, we were surprised by people at live shows because they knew our song "Legend of the Scarecrow" and were singing along. As a new band, we weren't expecting for that. And it has been better and better so far 🙂
Summon: Where did the band name come from?
Paula: The name Arkaos was Alexis' idea, it's the union of the words Arcano (Arcane) and Caos (Chaos), and we replace the C with a K just because it looked good 😛
Alexis: I remember, that when I was thinking of the name Arkaos, I first thought of "Alkaos", for another word, but that name would make people to not take us seriously.
Summon: Introduce the band members
Paula: Alexis del Rio, guitars and vocals, Carlos Osorio, drums, Camilo Peña, bass, and myself, Paula Vilches, vocals.
Summon: Who writes the music? Lyrics?
Paula: The lyrics are written by me, although Alexis had plenty of ideas, so we worked together in some songs. The music was created mostly by Alexis, and then all the band members' worked out the details.
Alexis: Yeah, Paula is really good with lyrics. When I write the songs I don't particularly follow any line of composition. Also, Carlos, the drummer compose songs as well.
Summon: And where do the lyric ideas come from?
Paula: It depends. For example, our upcoming album "Riding into the Storm" has lyrics with similar subjects to each other, they are all related so the entire album tells a story.
Alexis: Paula took some ideas I had written and reassembled them. And after that she created her own lyrics for the songs. The general idea of the lyrics is the decadence of our world.
Summon: How many albums/CD's have you released?
Paula: We have only released a single of the song "Legend of the Scarecrow" along with its music video, but we are finishing the recording of our upcoming full length album "Riding into the Storm".
Summon: Tell me about some the songs on the latest CD?
Paula: Legend of the Scarecrow has a very well defined sound, it is powerful but also soft and atmospheric, it has both male and female vocals. It tells the story of a poor Scarecrow that wanted to have friends and had nothing but rejection, and a tragic end.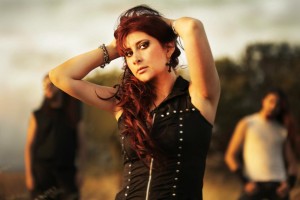 Summon: Do you have any side projects?
Paula: Yes, our drummer Carlos plays in a band named Voltia, and I play in a band named Denun. Camilo plays in 5 other bands!
Alexis: I'm also working on a new project called "Chains of Fate".
Summon: Who are some of your musical influences?
Paula: I do not know if they are influences, but the bands that I like are: Skunk Anansie, Tool, Tori Amos, Opeth, Seal, Pearl Jam, Skin, A-ha, Genesis, Paradise Lost, Chilean bands like Los Jaivas and Inti Illimani and many more.
Alexis: It's hard to describe influences, because we all listen to so much music, and such different styles too! Primarily I listen to Metallica (it was the very first metal band I listened to when I was a little boy), Opeth, Tool, Leprous, Sybreed, Fear Factory, Sepultura, Pantera, Alice in Chains, Duran Duran, Depeche Mode, Killing Joke (yes, a lot of different things, it helps me compose more "integral songs").
Summon: What is the band like when you play live?
Paula: Our live shows are very energetic, we all give 100% and more on stage, we love what we do and that's what we show. We always have a very positive response from the crowd.
Alexis: If there is something that I love, definitively is when we play live. It's awesome! We can't stand still jajaja, we just keep moving, jumping, headbanging… and the crowd feels that and cheers us up.
Summon: What was the best band you played with?
Paula: We have played with lots of great Chilean bands.
Alexis: I think, because it's my favorite Chilean metal band, Poema Arcanus has been the best we've played with.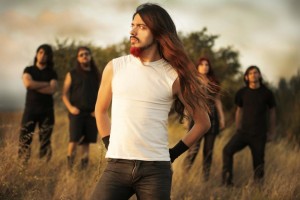 Summon: Have you guys ever played in another country?
Paula: Not yet, but we want to do it pretty soon!
Alexis: If you guys wanna invite us, we won't reject it hahaha.
Summon: How big of crowd shows up at shows usually?
Paula: It depends on every show.
Alexis: Yeah, attendance it's been pretty good actually. There has been a couple of shows that I've been astonished of how many people showed up.
Summon: How is the crowd response when you play?
Paula: It is really amazing, we're very happy whenever we play live.
Alexis: Yeah, sometimes I've amazed seeing the crowd headbanging, singing along, cheering up.
Summon: What is the scene like over in your country?
Paula: Tough question! Everything is very difficult in the local scene, there is no much support for musicians, for emerging bands it's difficult to get a good date, a good place, and sometimes they are treated really bad. No one gets paid, ask Chilean musicians about it. Besides we have a very bad problem: the cover bands. People support them more than the local bands and pay even more expensive tickets to see them, so we're screwed in many levels. But we can't stop so we keep on rockin'.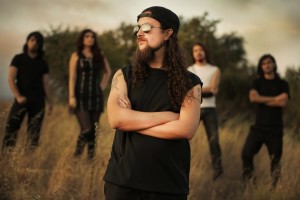 Summon: What made you want to be in this band? And if you weren't in this band what would you being doing now?
Alexis: Well, it was a project I fought to make it happen for a couple of years. I guess if I weren't in this band I would be in another one; I can't be without music, I love playing.
Paula: I took a listen to the songs and wanted to be in the band right away, I loved it immediately. If I wasn't in Arkaos I would be making music, or working on another type of art. I cannot live without creating.
Summon: What does the future hold for the band??
Alexis: Well, there's an LP coming out soon (we just finished recording drums and rhythm guitars), a new music video and a lot of surprises too!
Paula: I am sure that the band will have a lot of positive things and I hope that we get the chance to achieve all of our goals, we work hard and we'll be doing what we love for sure, that is what we want.
Contact them at:
https://www.facebook.com/Arkaosband
http://www.youtube.com/user/Arkaosband
https://twitter.com/ArkaosBand