Angry White Elephant
Vs. The Wooden Cobra
Woodhouse Records/Soul Food
13 Track Album
Release Date: 7th April 2017
By: Pagan Hel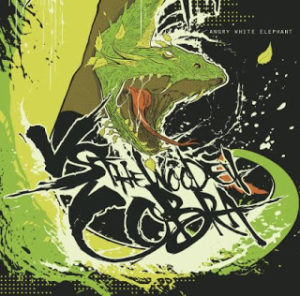 Angry White Elephant – Dortmund Germany
Links:
https://www.facebook.com/AngryWhiteElephant
Genre: Crossover and Nu Metal
Biography:
"Without rules. ANGRY WHITE ELEPHANT is the brand-new discovery of producer legend Siggi Bemm (Caliban, Tiamat, Farmerboys, and much more) from the famous Woodhouse Studios in Hagen, Germany. Siggi personally was on task behind the recording console, produced, mixed and mastered the debut album. The heavy, groovy and also very melodic multi-faceted mixture of (Post-) Nu- Metal / Crossover / and some catchy "Hardpop", contains elements of the most varied styles to their very own musical range that aims to a wide crowd of music fans up to heavy and rock fans. The band has already gathered a few awards in their area and are now ready to revamp this musical field. The album entitled "vs. The Wooden Cobra" contains 13 tracks and will be released from 7, April 2017 onwards in the world as a Digipack-CD including a poster booklet, accompanied by the first release concerts and festivals to follow.
Check it out yourself…it's fresh and it's different!"
~~~~~~~~~~
Oh this is music to my ears, it is melodic, harsh and thoroughly engaging and the sample during the intro is smile orientated – I most definitely will enjoy this show from start to finish – love it! Gluttony holds some mesmerising riffs and rigid beats plus the fantastic duel vocal of clean and downright dirty – it's so fresh you can almost taste its goodness! The melodic core is thick and compelling and most importantly – body obeying with its slithers of unusual rawness that allows you to bask in its glory. Frontflip has that large melodic stream that infects on listening, and all you want to do is learn the words so you can sing along. Nu-Metal has that instant catchiness, the instant likability attached to it and Angry White Elephant possess the power, the raw fever, the strong intention to be different and pull everything off in this track – phenomenal!! Self-Ignition is a superb track that literally hits the ground running, and immediately has the 'head banging effect' with the turntable influence and those deep ravenous vocals, oh my I can't get enough of this album – it eats you alive! Scarz reminds me a little of Pantera's, Walk and this track is just as edgy and forthright as Pantera's with their own take on things. Deff People is one of those tracks that if you are in a mood it will soon clear out all the negativity with its large strides of beefed up metal – it sneaks up on you and drags you along into its tumultuous swathe of feistiness! Rebel Assault is definitely that with its jagged choppy rhythms and squeaks along with a good forceful beat and riffs it really grabs you by the short and curlies and gives you a lot to think about!. The Hive is about to let a swarm of bees escape in the form of musical notes – coming straight for the ears and envelops you in this blanket of ferocity. It feels like you are being slammed against a wall as it makes you take note but the excitement of hearing something like this is so overwhelming it is remarkable! Spyrograph is a solid track that is oozing melody and feisty rhythms that harbour excellent groove – this is like a drug and I want more of it in abundance, please! Nightmare on Wall Street is more than enticing it sweeps you up into its outstretched arms and literally carries you on a torrential tidal wave of goodness. The deep vocal chords are triggered by some amazing beats and run with the tide! Dortmund Dropkick is just as savage as the football team – good old BVB!! The track literally melts the cerebral cortex so it looks like candle wax! Vs The Wooden Cobra – holds plenty of inviting groove and manic rhythms. The clean vocals play a very integral part of the track as do the low growls. It is a pure vocal attitude that shines through along with superb musicianship that makes this band a lottery win!  Rainmaker is hard hitting and indulgent with a healthy swagger of stoner – it heaves out some great vocal breath and seethes with bold adventure.
This is one highly contagious album that should carry a health warning as you may overdose on its brilliant rhythms!
As the Germans would say Ausgezichnet!!! I am in AWE of Angry White Elephant!!
10/10
Track List:
Intro
Gluttony
Frontflip
Self-Ignition
Scarz
Deff People
Rebel Assault
The Hive
Spyrograph
Nightmare on Wall Street
Dortmund Dropkick
Vs. the Wooden Cobra
Rainmaker
Line-Up:
Christian Jesse – Vocals
Michał Malinowski – Lead Guitar
Max Brücker – Bass
Robert Sommer – Rhythm Guitar
Philipp Dous – Drums
Frank Mädler – Turntable