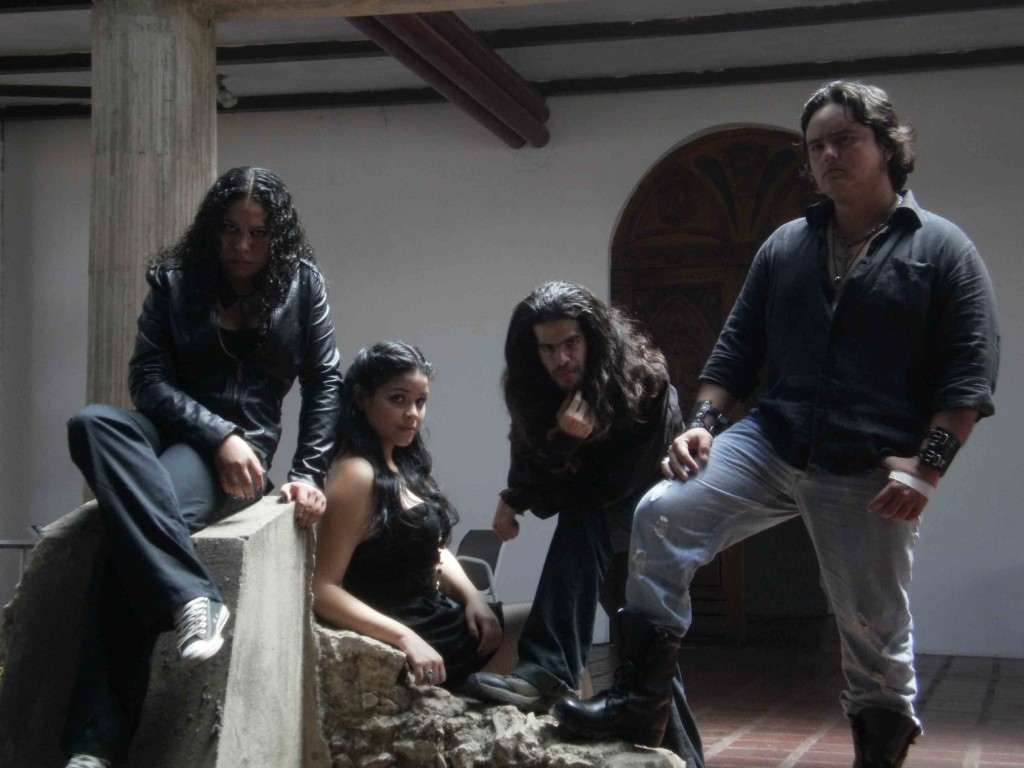 Summon: How did the band get started? 
Sting: Anfitrite born after the initiative to carry out a project really serious of heavy metal in the Lara state, after leaving my previous band, Tatarimokke, where I got some experience working with the gothic, doom and more specifically Avant-garde metal (you can see a small video of this project here: www.facebook.com/tatarimokke). At that time I met Ana Alvarez, an extraordinary drummer, faithful follower of Judas Priest and Arch Enemy, during preparations for a small concert in which we do a tribute to James Dio, shortly after, I managed to contact her again and tell about the project, demonstrating her interest almost immediately. After that, I started to look for a guitarist who could help, so I drew up some posters and placed them in every corner of the village where I live, and soon I received a call from Emmanuel Bastidas an excellent guitarist, a DragonForce's fan with many years of experience playing the violin with Venezuelan orchesta system, he had desired to be part of the band. After a short meeting, we named the band as Anfitrite (in Spanish) in honor of Amphitrite, the wife of Poseidon, king of the sea in Greek mythology and agreed define the symphonic power metal like style, taking advantage of the high speed of Emmanuel on guitar. After several rehearsals, over 6 hours, we compose some songs, but soon Enmanuel had to leave the band for personal reasons. Before he retired from the band, we met by the father of Ana a bassist named Elio Escalona and his brother Ericson, who played guitar, they quickly joined the project. It was then we started looking for a vocalist. I had long ago learned the art of the guttural voice, but were looking for something closer to Epica and The Sins of Thy Beloved with the female voice lead in the group, so we met Edhuana Dossantos a singer with contralto register who joined the band. From this moment we started to include the art of Beauty and the Beast for the voices getting closer to gothic metal and returning to the theme of mythology and epic heroes in the songs. Over time, these new members agreed to leave the band, for some differences about the direction we should take in the style of the group, so Ana and I would be left alone to work on the project. It was then when I could go to college to study music education that I met Sara Rodriguez an impressive soprano singer, a Within Temptation follower. She was about to leave her Evanescence tribute band called "Fade Away", so I talked to her about Anfitrite and showed to her some of our songs, immediately became interested in helping on vocals backup just before running out guitarist, bass and contralto voice. By then, we began to venture further into the female symphonic metal building on the wide register of Sara's voice. She learned the songs very quickly, so that in one day we could played all almost completely! … This pretty amazed us. So we started working on arrangements for the soprano and contralto voice as we prepared for a major concert in Barquisimeto. But shortly after, the brothers Elio and Ericson decided to retire permanently and we lost contact with Edhuana Dosantos, leaving this time Ana, Sara and I working tirelessly on the project. It was quite difficult to find a new guitarist, we already tried to include Islander Boza (our current guitarist), but for reasons of time he couldn't stay because at that time was very active with our brothers in the band Mortuorium. So we study all possibilities, until at last he saw the chance and Islander joined the band permanently as one of his greatest wish that always has, been to play symphonic metal. I dare to say that Islander is one of the most versatile and creative guitarists I've ever met, he's my friend for a long time now and I've became a fan of his work. So when he started working with us we realized that the project could be consolidated once and for all. Now from that day, our focus shifted enough, we do gothic symphonic metal experimenting with death metal, a little black and include some Avant-garde metal, thus achieving a more mature sound and much heavier but losing the essence of symphonic metal. We could say that our style is symphonic metal epic, theme of our lyrics but the truth is that it looks very different.
Summon: What kind of music do you play
Sting: In Anfítrite we play symphonic death metal, although we have a lot of influence from genres like black and gothic metal. Death metal is latent in us because this subgenre is deeply rooted in Venezuela. Most of us have some experience playing other types of music like rock ballads, rock and roll, folk, and others.
Summon: How has the band response been?
Sting: Has been quite good, our style has liked many people (metalheads or not) and that has motivated us to continue fighting for our project, so we are getting ready to record and play live on at regular basis for our fans.
Summon: Where did the band name come from?
Sting: To choose the name the band I developed a large list, but most of the names other bands had them, but after much searching and reading, I wanted to propose one that was quite original and related to Greece. So it was like after a huge searching, I remembered the name of Amphitrite, goddess of calm seas, an entity that according to Greek mythology was espoused by Poseidon. His name is a bit tricky to pronounce for some people who speak Spanish, so it took a bit, but quickly got used to properly pronounce it. What caught my attention was that there was very little information about this deity. This particular feature and seeing the fabulous paint of "the triumph of Amphitrite" by Hughes Taraval, made by deciding to end once and for all, to propose this name for the band. Moreover, the name of our group is related to the cult of woman, which is professed since ancient times in pagan cults, as is consistent with the belief that life originated in the sea and philosophy of Thales of Miletus. Also other characteristics of ancient Greece have influenced us as democratic ideals, so that each band member is considered a valuable individual and therefore we are all equal.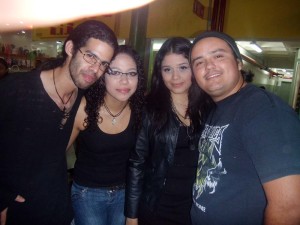 Summon: Introduce the band members
Sara Sofia Rodriguez: (Soprano Vocalist)
Ana Alvarez: (Drums and Percussion)
Islander Boza: (guitars and vocals)
Sting Weiss: (keyboards and guttural voice)
*We do not have a bass player at the moment but some friends have helped us in concert. We hope to get someone to fill that position permanently.*
Summon: Who writes the music? Lyrics?
Sting: Most songs are written by Sara and some for me, especially the old songs, but sometimes we get together and we contribute ideas to write. Sara is very good with it and we're very happy with their work. We compose the music together, each one brings an idea that later joined, we evaluate the result and if we like, we proceed to fit the theme. We create scores and midis so we're fans of Guitar pro! And all those technologies that can make the fluid work when composing a theme. It is important that musicians use what we have and be open to the virtually unlimited potential of software, there were not that long ago.
Summon: And where do the lyric ideas come from?
Sting: The lyrics are mostly based on the mythology of many cultures (especially ancient Greece), folk legends of our country, personal experiences and stories about paranormal events that have collected over time. We like to know the myths and legends of other peoples, if you like can write and talk to us about the stories and folktales of their countries, who knows if we are motivated to release a new issue to any of them 🙂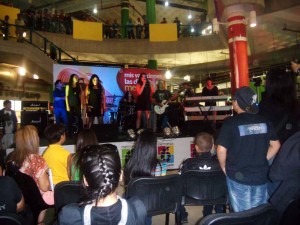 Summon: How many albums/CD's have you released?
Sting: At the moment we are in preparation to record our first demo and let us know more formally to the audience, although we have available some small sample videos on our facebook page, our youtube channel and our official website. In the middle of last year, a DVD with one of our live performances as guest band was released and is available for sale in a music school that remains to this region, which helped during the performance and preparations for a concert new talent. It was a very pleasant experience for us!
Summon: Tell me about some the songs on the latest CD?
Sting: For the DVD entitled "Fundación Marcados: Summer Concert 2013" we played two of our most popular songs: "La Manzana de la Discordia" about the judgment of Paris where he choose the most beautiful of the goddesses of Olympus and "The Descent of Orpheus " about the underworld journey by Orpheus to Hades in search of Eurydice, his greatest love. You can see a little sample of this DVD on our video channel on our facebook page and our official website.
Summon: Do you have any side projects?
Sting: Islander Boza our guitarist also plays with our brothers in the MortuoriuM band, which is a very important group in the state, the other members are carry only with Anfítrite now.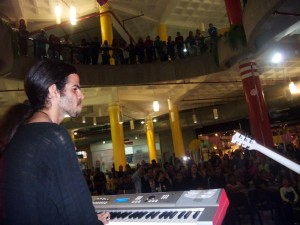 Summon: Who are some of your musical influences?
Sting: Many have been our influences within the metal, mostly symphonic, heavy, thrash and power metal but also the death and black metal have considerable impact. The folk metal we like a lot.
Summon: Which current bands?
Sting: Oh! I think the first band to be mentioned as important to us is Epica by Mark Hansen, We could say that our style was influenced by this legendary band. It is they who made ​​it grow our interest in symphonic metal after reviewing their work and study more closely their sound. Another important band is Nightwish, perhaps one of the best I've heard, in fact I follow closely Tuomas's work. It is also fair to say Eluveitie and Battlelore as one of our biggest influences. We simply adore Eluveitie! And of course: Within Temptation! We really like to listen to new bands emergent, you never know if they might influence our career. We support the movement and give opportunity to new talents to be heard, apart from providing any assistance whenever we can.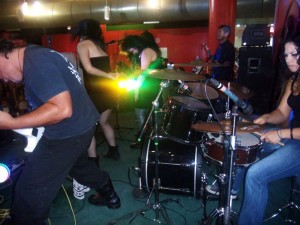 Summon: What is the band like when you play live?
Sting: Excellent! We all help and work as a team all the time, I think we transmit that energy to the people who go to our shows XD
Summon: What was the best band you played with?
Sting: MortuoriuM definitely was the best band that we played live. They are quite friendly and longtime friends so even we have significantly influenced in our musical career.
Summon: Have you guys ever played in another country?
Sting: We recently had the opportunity to play in Bariloche (Argentina) because we were invited to participate in the Ruca Hue Metal Fest 2014, a major event of Latin American metal held earlier this year, but for economic reasons we could not travel there. I think that on google you can find some sites where Anfitrite listed as one of the international bands invited to the event. We would have liked to play there, because a lot of people liked our proposal and we hope in the near future to go and play for the Argentine people.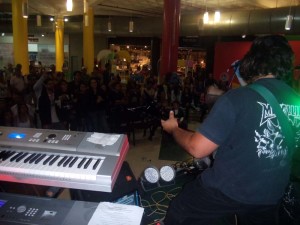 Summon: How big of crowd shows up at shows usually?
Sting: Mostly depends on the place, in our first concert had countless people since it was a very popular shopping center in Lara state. Possibly more than 500 people. In December last year we had a private concert where we played to a small group of people at the birthday party of one of our fans. There we played all our songs and shared the stage with MortuoriuM. So it depends on where we play.
Summon: How is the crowd response when you play?
Sting: It has been very good! The people liked our style, in fact many come to congratulate us and manifest their support, we even wonder how others do it to get our songs! … We are one of the few symphonic metal bands in our country at that people have high expectations when we turned live, so we are working hard so they can acquire our music as soon as possible.
Summon: What is the scene like over in your country?
Sting: It is good, but often it is difficult to make concerts because there is little support for the metalhead movement in the region, there are some states where the movement is stronger, so one must work very hard to make themselves known. However there are many people who support local bands and attending the few concerts that are held. One of our goals is to make the national metal continue improves popularity and reach beyond the country's borders, so that the world may know that Venezuela is good for metal music.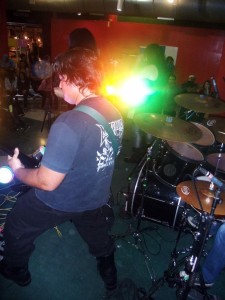 Summon: What made you want to be in this band? And if you weren't in this band what would you being doing now?
Sting: Really what attracted me to the metal is the feeling of brotherhood and dedication that musicians put into their work. In Anfitrite is all that, but because we are members of a band, we are all brothers and work together for a Dream. The heavy metal is more than a musical genre, for us it is part of our life and as a profession we love, so we hope that many people feel inspired to achieve their dreams after listen and meet us in person. If I were not in the band, I think I would be devoting to writing, one of my favorite passions, but Anfitrite is high priority for me at this time.
Summon: What does the future hold for the band??
Sting: As I said earlier, we are preparing to record our demo, so we hope we can best promote it on social networks and during our concerts. There are sooooo much things on the way … And we are working hard to show something of quality to our loyal fans. So far we have some simple videos on the web (including an excerpt from the DVD where we appeared), because many people asked us to listen the material we had live and wanted to know more about us.

Really, thank you for reading this! For more information visit our Anfítrite websites and help us get more likes on our facebook page, soon we will upload more material:
Contact them at:
https://www.facebook.com/AnfitriteBanda
http://anfitritebanda.pagevamp.com
https://twitter.com/AnfitriteBanda
http://www.youtube.com/user/anfitriteband