Adam Probert
The Battle for Tomorrow
11 Track Album
Sonic Entrails
Release Date: 20th January 2017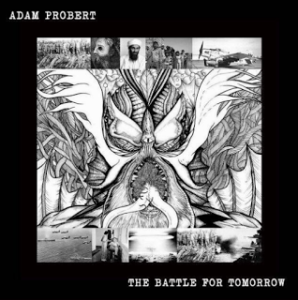 Adam Probert – Staffordshire, UK
Links:
https://www.facebook.com/adam.probert.56
Genre: Hard Hitting Poetry to harsh sounds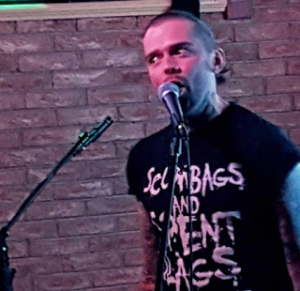 Who knows just what will end up being sent over for review next and as it happens on checking the 'other' message box I received this from Adam Probert. The first track "The light that burns my eyes!" would have you thinking it is straight from an episode of Dr Who. It has all the right sound effects, not sung, but spoken in time to a very hypnotic rhythm. "I am war" gives us samples and exploding sound effects from the Second World War and yet more poetry, although this is hardly relaxing. It cuts below the belt the way it is supposed to and leaves a really bitter taste in the mouth. "Take your Fucking Medicine" is probably one of the most hard-hitting pieces of writing about cancer I have heard – the music is sinister just like the evil pharmaceutical companies, who think it is fine to kill for money – in musical form this really hits home with the force of a large cricket bat!
"The Mob (Feat: Katy Watkiss)" A stereo version male and female speak out about the Mob to overly loud resonating sounds, which make it difficult to concentrate on what is being said. "Osama Obama" are they the same person? This piece of poetry outlines things very clearly. The jagged sounds are startling and chilling.
"What you have to hide (Feat: Mark Perryman)" More twisted words that will awaken you to the nosey New World Order and just what they are doing in front of our noses! Problem – Reaction – Solution …It is enough to make you paranoid!
"Justice" is there such a thing? There doesn't seem to be in this lifetime anyway! "Monotony" There is so much truth in these words – Groundhog Day – open your eyes! Are we really enjoying ourselves? It makes you think! "Population Control" I can already see (and hear) what's coming – I know it is true! Having heard this information some years before – look at the skies, our food, our water…Una Stubbs and Dandy Nichols – although they speak in jest, they do raise a completely valid point "The only time the Government has a use for us is when they want a war, the rest of the time they can do without us!"
"The Flying Dutchman" is this about the real Flying Dutchman or an imposter? I haven't quite decided! "Famine" reveals some harsh and resonating sounds along with a very pronounced voice that stirs up some shocking images.
Listening to such intense poetry that is embedded in a shady background noise, does prompt one to listen and listen carefully – Adam is another person who knows the truth. This is another response to his album!
Today, I had a wake-up call
It's what I have always believed
That high up in the Government
Are nasty vicious thieves
Polluting all our water
Messing with our food
Feeding us disgusting lies
And changing all our moods
A vaccine for this
That won't prevent squat
But take it anyway
It's all that you got!
You will get Cancer
But we have the Cure
Take your Chemotherapy
It won't help… for sure
It will keep you ill
It will make you weak
You will lose your hair
–  You poor little freak!
The New World Order
Is pulling the strings
So make sure you're aware
You know all these things.
On finding out more from Adam, he reminds me a lot of the Late Rik Mayall although this isn't funny – this is a reality!
9/10
Track List:
The light that burns my eyes
I am war
Take your fucking medicine
The Mob (Feat: Katy Watkiss)
Osama Obama
What you have to hide (Feat: Mark Perryman)
Justice
Monotony
Population Control
The Flying Dutchman
Famine
Members:
Adam Probert – Lyrics
Johnathan Watkiss – Flesh eating Foundation – Soundscapes