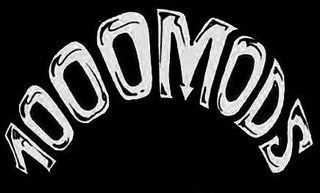 1000MODS
is a psychedelic/stoner rock band from Chiliomodi, Greece. They were formed in the summer of 2006 and since then, they have played over 100 live shows, including openings for Brant Bjork, Colour Haze, Karma to Burn, My Sleeping Karma, Radio Moscow and many others. Their commitment to vintage equipment, thick and heavy analog sound and their remarkably passionate on stage performance is what sets them apart.
1000mods toured Europe during October 2011, in order to promote their new album. They played 25 gigs in 12 countries. Some of the tour's highlights were appearing as special guests at Up In Smoke 3 and supporting White Hills. On August 2012 they played at Aquamaria Festival with bands as My Sleeping Karma, Abramis Brama, RotoR, Sungrazer, Seven That Spells, Asteroid and many others.
In the beginning of 2007 they released their first (self-financed) EP "Blank Reality" on CD, and in December 2009 they stroke back with a brand new 7'' EP titled "Liquid Sleep", available on colored (light green) Vinyl by SuiSound(CTS prods). On May 2010 they released a limited edition split tape with the German psy-doomsters Wight.
In October 2010, the almighty Billy Anderson, the man behind legendary albums (Sleep, Melvins, Neurosis, Om, Los Natas, Orange Goblin etc.), visited Greece in order to produce the band's debut album "Super Van Vacation". Malleus Art Rock Lab took care of the artwork. In September 2011, the German label Kozmik Artifactz released the album on Double Vinyl (which was sold out a couple months after) and the Greek label CTS prods on Digipack CD.
"Super Van Vacation" Vinyl re-issue is scheduled in April 2013 by CTS Productions.
"Valley Of Sand" is the band's latest EP released by Lab Records on 12'' in December 2012. Side A contains the 17min psychedelic desert rock self-titled track which is engineered, mixed and mastered by Billy Anderson and side B, three live recorded tracks.
Discography:
"Blank Reality" (2007) EP, CD
"Liquid Sleep" (2009) EP, 7''
"Super Van Vacation" (2011) 2LP, CD (2LP re issue 2013)
"Valley Of Sand" (2012) EP, 12''
Press
They play desert rock and play it well – Matthew Tranker (Stonerrock.com)

A dose of highly addictive first-class stoner rock. "Super Van Vacation" is a killer straight-shooter album. So just get in the van! – Thanos A. (downtunedmag.com)

Tunes like this were made for vinyl…the clunk as the needle hits the plastic, the crack and pops and the lovely packaging. This is like being dumped back in 1973…good times and good tunes!!!! – Ollie (thesleepingshaman.com)

Super Van Vacation is an hour of heavy and hard hitting stoner rock.1000mods are again proving they're ready and willing to run with the ball. – Bill Goodman (thesodashop.wordpress.com)

"

Super Van Vacation" is an easy to ride, easy to love record. Get ready for this wagon cause the boys will visit soon! This is honest rock attitude! – Dr. Doom (drdoomslair.com)

There is growth yet to be undertaken, but the four-piece have their hearts and their amps in the right place and they know how to hone in on a serious groove. If you've got to start somewhere, that's a better place than many. – H.p Taskmaster (Obelisk.net)
Lineup:
Dani: Bass & Vox
Giannis: Guitars
George: Guitars
Labros: Drums
Contact:
1000mods are available for festivals, supports and special events upon request. They're also available for promotional interviews etc.
Links:
Web: www.1000mods.com
SC: www.soundcloud.com/1000mods
FB: www.facebook.com/thousandmods.chiliomodian
BC: www.1000mods.bandcamp.com/